Hobbiton and Hops Journey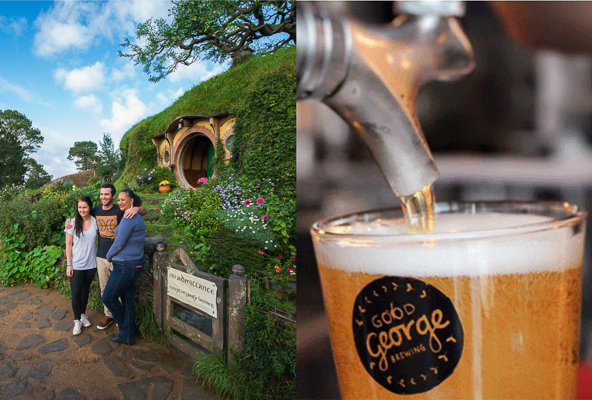 Duration: 10 Hours (approx.)
Product code: DBB7G
If you want to book for a group of 4 or more on a date that is not available or sold out, please get in touch with us at info@bushandbeach.co.nz or call 09 837 4130. We may be able to arrange another vehicle for you.

This is an easy day trip from Auckland to both the Hobbiton movie set and the Good George Brewery in Hamilton – the Brewery who make the exclusive beer for the Green Dragon at Hobbiton. The day includes a fully guided tour of the Hobbiton set as well as a tour and tasting at the Good George Brewery – find out how they make the beer for Hobbiton.
Our experienced guides look after you all day from pick up to drop off in Auckland City Centre. They will talk on the way down giving insights into the areas you are travelling through and background to the movie set you are visiting. On the way down to Hobbiton there is a brief stop at a local cafe in case you want to buy some local baking or a coffee (or as we like to call it a 'second breakfast')
When we get to Hobbiton you will have some time to check out the shop and grab a bite to eat before joining the tour down to the movie set.
Your Hobbiton tour guide will take you down to the movie set where they take you on a walking tour around the 44 Hobbit holes. You will get the chance to have a photo in the doorway of a Hobbit house, see the Party Tree and stand by the gate to Bilbo's house 'Bag End' overlooking the whole set to the hills in the distance. You cross the bridge by the mill to go into the Green Dragon Inn where you can enjoy a complimentary ale, cider or ginger beer.
After you leave the Green Dragon you finish off your tour and join your Bush and Beach guide to head over to the Good George brewery in Hamilton.
At the Good George you will get a tour to find out how they make their fantastic beers and also get a tasting and a delicious pizza. You will have some time to spend at the Good George before heading back up to Auckland City.
Bush and Beach have been running tours from Auckland to Hobbiton movie set for over 6 years and work closely with Hobbiton to make sure you get the most out of your time there.